Post by Xingmin Wu on Aug 18, 2015 2:17:30 GMT
The Geo-Political Implications of the ECA Withdrawl
(Format loosely based on the Caspian Report Youtube Channel)
Greetings, it is me, Erwin Zhu, and welcome to Geopolitics Central.
Today we will be analyzing the Geo-political implications of the ECA military withdrawl of North Africa.
----
As many of you may have heard, the European Continental Alliance has begun to completly withdraw its military assets from the African continent. The ECA supreme commander states that it was done because there was 'no possible way the ECA could hold on to its north african territories'. This is a huge decision that could seriously disrupt the balance of power in the African Continent, and turn the geo-political situation completley upside-down.
We are already beginning to see the results of this huge decision, as the GLA are now trying to fill the vacuum of power in North Africa by projecting their influence among the countries left behind by the ECA. This means that the Global Liberation Army is in a position of huge power and influence on the African continent, and the world stage. This withdrawl has now allowed the GLA to break free of their encircled and cornered position in Central Africa.The GLA has access to the Mediterrainian Sea, the North Atlantic Ocean, where they will be able to influence much trade to and from the European Continent.
The country most affected by this huge change in Africa, would be my home country, the People's Republic of China.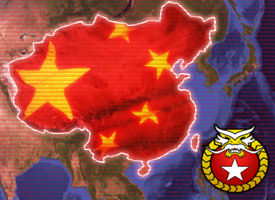 China since 2040 has had huge amounts of influence over very important and strategic locations in Africa. States in their zone of influence include the newly-created Nigerian Federation, Egypt, Sudan, Ethiopia, and the military Protectorate of Somalia-Eritrea. China's huge economic investments and military presence in most of these countries have practically turned them into client states, for which China, and the GAPA have benefitted greatly from. However, this situation was always delicate due to the ongoing direct and proxy conflicts with the Global Liberation Army.
Not too long ago, the Greater Asian People's Alliance with the Nigerian Federation has started a large military assault on GLA-controlled Cameroon, known as Operation Tinderbox, hoping to cut off one of the GLA's access points to the Atlantic, and link up with American forces, currently besieged in Gabon. Before the military assault took place, the Chinese Leader Wu Xingmin had asked for military access across the nations of Chad and Niger, so he could logistically support his assault with a direct supply line from Egypt. Now that the ECA has withdrawn from these locations, the GLA can now easily cut off this supply line, threatening the entire ongoing operation in Cameroon.
Similarily, now that the North African countries are dominated by GLA influence, they have managed to cut the Chinese zones of influence in half, and cut off China's access to Nigeria completley. In fact, Nigeria is completley surrounded by GLA-influenced territories. Now, the only way to trade with and supply Nigeria safetly, is either way north through Europe and the Atlantic, or way south around the Cape of Good Hope.
China now also has to help its East African allies strengthen their borders. Before, the Egyptians did not need to rely much on their military being present in Egypt, as the front lines are way south. Now, the GLA can attack from their western border. This alone would mean the North-East African countries would have to direct much of their economy towards defence spending and military production, directly impeding the GAPA-African plans of economic development.
The only alternative would be a complete military dependance on China to defend their borders. This is very risky, because China already has a huge military presence in Africa, just to protect their current frontlines in the south. This, adding to the current Chinese military operation in Cameroon, would mean they would risk huge overextension.
As of right now, China's only option is to fill the vacuum of power itself, by taking over as much of the now-GLA influenced territories as possible, however the Chinese were never prepared for this. Their militaries are completley focused in the border skirmishes in Sudan, and Somalia-Eritrea. On top of this, a massive military operation against North Africa could put a serious strain on the PLA and Chinese economy.
Diplomacy is a very tough operation for China as well. China has a very bad reputation for mistreating their own allies, mostly thanks to the policies of their old leader, Cheung Liu. China's new leader is trying to fix this, by developing new friendships and promoting economic growth in their allied states. China's difficulty in repairing relations is best exemplified in their relation with Indonesia. Wu Xingmin has been trying very hard to win the favor of Indonesia, by huge amounts of economic aid, economic investments, political influence, and other methods of projecting soft power. Only after billions of dollars were spent on them, and dozens of political visits and negotiations, have the CPC finally got the Indonesian government to consider joining the GAPA, but even then, much of their eastern provinces are threatening revolt if they do.
Wu Xingmin hopes that the threat of GLA oppression and violence is enough to have the North African governments co-operate with him.
----
[TL;DR]
Much of the Chinese government and peoples feel betrayed by Jurgen Adler's decision. Now, China is stuck between a rock and a hard place. Their supply lines for Operation Tinderbox is now completley vulnerable, the Nigerian Federation is economically and militarily isolated, the East-African Nations' borders insecure, and China's military risks being overextended. If China doesn't act soon, they could face losing their influence in the entire African continent, having their economic might weakened, and their reputation soiled.
This was a Geopolitical Central Report, by me, Erwin. Thank you for watching, please like, comment, and subscribe. Don't forget to support me on Patreon.