Post by John Miller on Aug 17, 2015 1:33:50 GMT
Miller came into the room with his escort of secret service, Miller did a hand sign. As they approached down to their booth the UN soldiers left the room two by two.Switching posts with another type of guards.
Miller was not amused, he did not seem to have that smug look on his face.
"Greetings fellow leaders of the world's global powers and Mr. Andrey the leader involved regional power in Cyprus. I'm glad you could all make it. I hope you will grow fond to New York. It's a lovely place I hear this time of year and being a simple man myself I'm still awed by its size."
President Miller looks towards every world leader personally. Making sure that every one of them has his full attention to him. Everyone waited in silence to hear the words to come from Miller.
"Well then gentlemen. Let's get right to business. I have some things I want to make clear up by this meeting hosted by Andrey here. We will start with my first subject: Our liberation mission of Cyprus?
I'm sad to say the terrorizing CSTO mercenaries are now aligned with certain.. forces, who have their representatives present in this meeting" And Miller turns his head to his fellow leaders, with just some more time to his Russian college. "America will not tolerate threats, such efforts in any form are futile. We were the first to experience terror tactics, we have developed immunity to it from whom ever dares use it from this globe. In case I made myself not clear last time: Believing the very propaganda machine you fund as the basis for your own argument is pathetic. Alongside using… well let's just say, heavily suggesting or the locals to reinforce your own troops by joining the conscription just to be cannon fodder is to be expected from the Russian federation. To use them as a piece of equipment to gain favour and upstart a fake national fever. To disrupt and harm our forces who are on a mission to restore the peace and establish the country's true cypriotian sovereignty. We are on a mission to give liberate them from Turkeys grasp and support the locals…. This will not be done with a sudden surge of hostiles sent either by Russia or their allies. What kind of a superpower can't even control their allies? By all means Greece's has declared war to our nation, not that it has impacted our efforts. Still such a media stunt means that you are either obliged to join them or leave them to crumble should we retaliate to Athens.
Miller lit a small Cuban cigar gifted by Rosalinda on one of her most recent endeavours, he offered some to the others. Leaving an open box facing them to keep the offer open.



The United States of America however is not in the empire business unlike the ever expanding CSTO. I will can't stress this enough, that we wish to push Cyprus into neutrality. From what it does with it sovereignty is up to its own people. The murder of the government and parliament by Russian PMC's doesn't look good for you Andrey. Nor does the civilian crafts that's been reporting missing over the last week. Get off your high horse trying to justify something that clearly you have no claim over. Nobody here in the UN authorized your counter initiative against us either way. Miller said with an suttle and cold tone in his voice.
He paused for a minute with his smug yet silent look taking hold yet again.Assured of his words were backed by public support, he gazed apon the room then he reviewed some of his papers yet again.
"However, in our wisdom, I will come up with the idea that will suites this meeting. I am willing to talk about peace. Peace for those area's desperately needing help. To set up field hospitals and dropping foods and supplies in these areas. We are all clever men I assume. We aren't tyrants or blind to reason. I agree with president Andrey that we should talk about the world stage, as our communications from Washington to Moscow were completely ignored. I still yearn for peace gentlemen, for every Russian that dies we lose around a couple thousand dollars' worth in drones.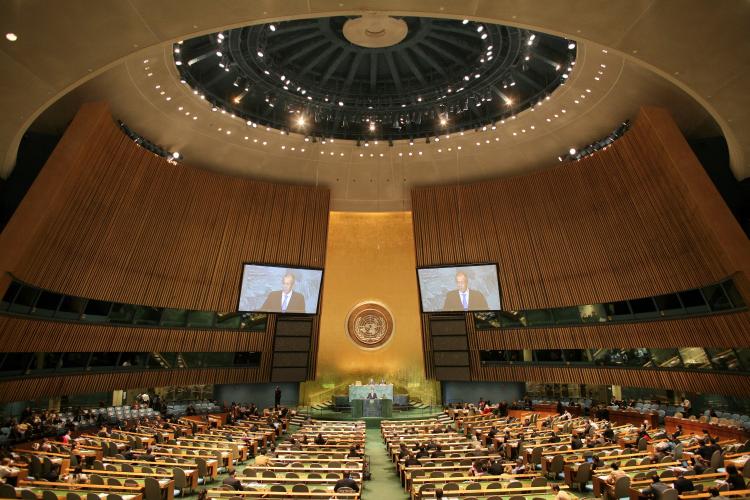 Where are we? What are our possibilities? What should we do? We need to make an agreement on certain edges, else we will get more trouble" Miller says. He still remained at his seat to stare at the UN symbol while giving out this small speech. Grabbing his flask from under his coat took take a sip of it.
Then, without any warnings or what so ever, president Miller slams his flask on the table. Spilling the majority of the whiskey it contained.


"I will not allow a war for this simple.. problem we are currently having. Do you really want to take it to that level? Only for this.. For god's sake man!" and Miller's eyes spit fire, when he points his face to his Russian college. "If you, now, here, sitting at this table with us, will remain to get your forces ready for a total out of war situation at the Cyprus region…" And Miller waits certain seconds to give the message he is about to say more power ".. Then, mister Andrey, let me be clear. If you are threatening me and my people with all-out war, the men women and children of the NAU with war.
You must either be a fool or must have made arrangements to never leave this building till Moscow has white flags all over it. That or you must have misused your words and will give an apology."
Miller, who was blowing smoke rings at Andrey's face had a devilish attire to him. Bombarding Andrey with the smoke of Cuba's finest export.
Slowly Miller put away his flask back into his coat and slowly leaning to his back. "Do I make myself clear? Do the wise choice. Keep your war talk by yourself. Or my <ahum> your taxpayers will pay you quite a visits worthwhile you'll be trapped here in New York"
Then Miller shuts slowly his mouth. If we're done with that, on one of our past meetings China has suggested both parts to withdraw and the control be handed to Turkey, I for one am a simple man who won't stand in front of progress.
Starting from that idea to splitting Cyprus, giving the north half to the CSTO and putting the south under CEF supervision seems like a simple solution In my eyes, as diplomacy does not seem to be a part of the Russian vocabulary.