Post by Steven Freephoenix on Feb 5, 2015 21:53:53 GMT
How Defenses work in the Roleplay
Hello there, My name is ★ Steven Freephoenix and today I'll be presenting this guide on defenses.
As you all know In game there are plenty of base defenses present to be buildable structures that have guns. Able to shoot at anything that comes close and just stand there when longer ranged artillery comes to hit them from afar. Just as you stand there and watch them fall,Its all right cause they're speedbumps after all.
Now then there are two types of defenses:
Constructable Defenses
Constructable defences are the ones you can see In every base so to say.They require a power supply and enough time to be fully built and fortified.Generally they are unmanned and fully automated,leaving little for human error.
Deployable Defenses
Deployable defences are the ones that do not require a base or a power supply.Thus they can be used in any deployment zone with easily with haste.But they are generally manned and can make mistakes...
Now then lets get started for each factions defenses.
Deployable Defenses
UNITED STATES OF AMERICA
From the bringers of liberty we have only one deployable defense,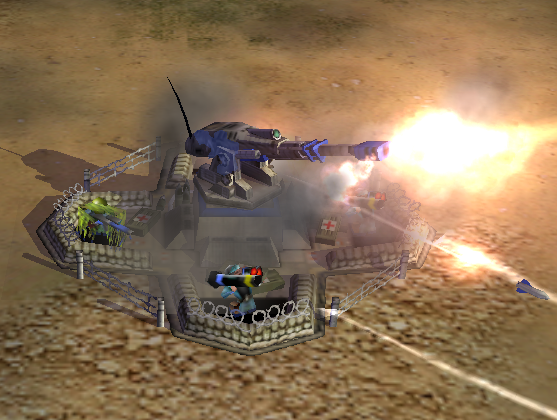 This would be no other then the firebase, this defensive structure can be built with nothing more then elbow grease with a count of more then 20 men.It requires no power as the howitzer gun is automated with a drone that has rechargeable solar batteries.Storing medical supplies inside the howitzer is not a small like the other deployable defenses.Yet with all of the cover and quick withdraw position as it is the troops inside are still vulnerable to toxin clouds or snipers.(chemical suits are not added into the equation).
It requires 9 hours to prepare. (3 Turns)
GLOBAL LIBERATION ARMY:
Holes: All gla buidings are connected to a/the tunnel network, If said positions are taken out by heavy bombing or artilery, as long as the tunnels remain intact.The commanders may order their workers to dig a hole back up to the surface where reconstruction may begin with little care for hostile enviorments with radiation.But workers generally stand up agaisnt being thrown into hazerdous conditions with anthrax clouds flying around, thus it is illadvised to send a second worker unless you have the nerve and cruelty to kill your own workforce when they revolt.(This is a serious penalty for those who would rush conditions in dangerous areas)
Camo Netting and Fortification:
Fortification provides the following:
Boobytraps and mulitple fake paths to kill any tresspasser inside.Maiking them impossible to infiltrate.They also have failsafe systems incase someone tries to gass them out or drown them,they provide a quick way to block off the said pathway with ease.As a bonus they are more fortified and can take more direct hits then other counterparts.
Camonetting provides the following:
Invisibility to scout aircraft or satalite scan (Russia being an exeption to this)
Invisibility from a long distance and requiring close by scouts or detection methods.
-Tunnel networks (sneak attack is not included)
img4.wikia.nocookie.net/__cb20130903044404/cnc/images/4/45/GS_TunnelNetworkEntrance_Portrait.png
They provide no power and they are even rumored to have thier own generators underground to house maintenence bays for the numberous machines they have.Theese tunnels are the quickest asset the GLA may build on the frontlines,allowing for rapid retreats and attacks.They can also benefit from camo netting and fortification upgrades. They can be connected to the network in 3hours (requiring one post ahead to prepare)
-Dushka nests
Theese heavy gun emplacements are known to put a hole into even mig armour or atleast leave a dent.The gunner being just another rebel from the bunch is given a nice seat to rain a storm of bullets.As the gunner is wide open it is targetable by snipers flame weapondry etc.They can also benefit from camo netting and fortification upgrades
They are able to be built apon 6hours (Needs 2posts ahead to prepare)
-Stinger Sites/nests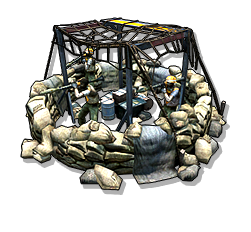 The name is rather a nickname given by intel theese days.For this hole of experianced GLA marksmen whos had experiance with said antitank and antiair missle systems.Men here are trained to be cold blooded,still...With radios open at anytime for any informant reports of activity.Even if not as much as the american pathfinders, they forgoe decent living conditions in order to remain inplace in position againt any air or ground attacks for rumored around days.The highest of them is said to being promoted to be deployed to ural trucks where skill and faith is used rather then targeting software.
The moving of theese men and supplying the nest with enough equipment not to mention supplys and connectin them to the correct frequency with both commanders and informants cost time.They are able to be built in 9hours (Requires 3 Posts to prepare)
CHINA
Gattling Gun: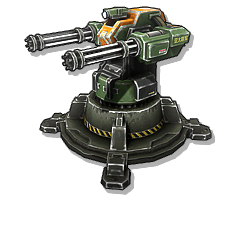 The simplest of automated systems, theese guns are now a symbol of chinas might.Firing steel with rapid fire, they care little for man or machine.Theese guns are able to be powered by either the heavy armoured pride of china the overlord,which has more then enough power for itself.Or they maybe carried to the frontlines with supplytrucks and await assembly and be powered by a forward nuclear reactor.The AI's code is constantly updated and sent with a low frequency from local commucations command to nearby listening outposts.This security messure is done in order to prevent any possible hacking of systems from an outside source.The guns of this automated yet closely observed machine can attack air and ground targets yet seems to lack penetrating power agaisnt armoured foes.Unlike the american hunter killers with their own AI the chineese goverment minimilizes self thought in its machines to do things by itself,but rather follow orders.Constructs do not decide, CHINA is the one who decides.
Provided that they have a local powerplant to support the power needs of this automated machine it requires 6 hours to prepare. (2turns)
The reactor itself however requires 12hours(4 turns) to be set up and is a easy target to thoose who seek to disable the source of power.Other aproaches may including hijacking or destroying the listening outposts nearby to disable or convert theese cold machines to your side, or to create a huge signal jammer that blocks the signal from command to them.
Bunker:
The chineese bunker used to require complex construction that lasted days has now been revolutionized with the new advancements presented by the british Concreate Canvas firm in the early 21st century.The company made a big boom in sales after the fall and revival of europe, constructing the foundation of the ECA.The advancements in this field of rapid construction later lead to the Builders Leauge United and Reliable Excavation Demolition contractors in europe and be in high demand till this day.
The idea is simple, a tent is quicky blown up like a ballon animal and then filled with concreate, when its full a few hours would pass for it to settle in and freeze till you lowered the fabrics.As the firm advertised; "Just add water, and errect that building!"
The chineese goverement replaced its previous method with construction cranes and scafolding to this rapidly deployable method that could be transported with supply trucks,helixes or even airdropped.Only requiring boots on the ground to quickly assemble it for use, thou the secrets of this bunkers mixture of materials is a trade secret that nobody knows.
They are able to be built in 6hours (Requires 2 Posts to prepare)
European Continental Alliance.
The E.C.A.'s defences backround:
The ECA is a special snowflake when it comes to defences.Unlike the other factions they enjoy the factions that seperate between deployable and constructed defences, the ECA has the best of both worlds.Other then the multitude of power sources they have within europe to power the defences they hold onto the title of having the source of unlimited solar energy with no polution worth mentioning.Other then that,field commands are known to house power generating power in a variety of ways depending on the local resources.
The swedish lead the way in private contracting to build defences in unpresidented times with great efficentcy.Lending a hand to the ECA armed forces as they're in close ties and the only faction they make weapons of war for.The Builders Leauge United and Reliable Excavation Demolition contractors take the dirty or dangerous jobs that other companies do not.
Where the Builders Leauge United takes on jobs on rushing defences to fortify ground, the Reliable Excavation Crew takes the more offensive roles on planing bulldog turrets,mines,tanktraps etc having the highest risk rating of any job in all of europe.Even if competition is thriving in between the two, the corprate structure of both contractors are the same,thus they do respectvely trade personnel under the common goal of serving europe.
Things that cant be built by the swedish exavators are as follows:
Skyshield AA batterys:The required equipment can easily be transported via a transport of two lynx transports.
Mines: They are either planted by moleminelayers,and combat pioneers.Dropped off by pegasus helicopters or Icarus mines are deployed via Tiger gunships.
Bulldog turrets: Theese beatly defences have the luxery of having their own power supply and be fully automated.For this reason the required materials need to be transported to the frontlines via two pegasus helicopters and essembled onsite.Where they would be deployed and the surrounding plantlife would be added to the top hatch to secure its disguise.(It functions simmularly to cammonetting)
Theese turrets being automated however have an uncommon programing thats a basic AI.What this means is that they are self sufficent,only sending off resupply signals back to command after depleating its ammunation.They do not follow the commands of any man but rather act sefishly,avoiding conflicts that would result in their destruction,but they do cooperate with nearby forces as they can always be eyes and ears to mark targets for the ECA's battle network.Little note:The are able to self repair with the use of slug shaped small drones that can provide minumum repairs to the turret when it is underground, as its an early concept taken from the american buildings self repairing drones from 20years earlier.
They are able to be built in 6hours (Requires 2 Posts to prepare minumum)
But can only be essembled in peace time, but not after or during combat due to the vunrability of the crew required to put it togeter.Each level of weapons also require a bigger computing compartment thus requires an additional 3 hours per level.(You can deploy this thing in 3 hours but for each level it would need 3 more to be operational.Leaving it at a maximum of 12 hours to be functional) Commanders on the field are advised, as this system is isolated from the outside to supervise it,early scouting or moving wth extreeme caution.
The rest of the stuff that swedish excavator contractors can do as follows:
Build an preform maintenence on ECA structures.
Build ditches,bunkers and pits for tanks,Infantry and large howitzer guns to be positioned into.
Build Goalkeepers rather then skyshields,which are superior in performance and smaller in size.(Theres actually other things that replace others but Its not revealed to the public so I make due with what you/we have)
Build the defences of the ECA:All of the ECA defences are unmanned yet lack the complicated AI system that the bulldog shares.Thus making them all dependant on power thats provided either by a local sources (Aka Tech powerplant and local power sources) or by built/pre-existing ECA power sources.(Field commands or solaris reactors)
Fortifications however do not require power however but do require extra elbowgreease if expanded into serving medical or mechanical units on the field.Theese are provided by underground infermarys or engineering bays that house equipment for the troops to run out and provide maintenence/care to said units that has taken damage.Some are even used as a depo to store extra-ammuntion that allows the nearby units to be triggercrazy with the supply they have,as a resupply is just a walk away.Theese depos however also carry fuel and other explosive and flamable materials and should be kept out of harms way.
Unless they are fortified by extra concreate and bulletproof glass they are vunrable to things like toxins or snipers.One last thing to mention would be that theese are stations that troops can fireback from and serve nearly nothing by themselves, they can be taken over by the enemy, booby traps could be placed to avoid such losses of equipment.
3hours (Requires 1Post to prepare.3extra for reinforcing it with the help of an excavator.The rest do require 3 hours extra as well but to not require excavators to upgrade it)
Guard towers:
The only other base defence thats manned under the ECA's employ.Yet unlike the other defences it is able to function without power to an extent.
If there is no power supplied the gunner statoned ontop of the tower can still fire its weapons but cannot do the folowing:
Have its thermal scanners detect for any unknown objects present other then the local wildlife.(Stealth detection)
Recharge its small ariel drone thats remote controlled by the gunner.(Untargetable and I had to come up with something cause binuclars are silly)
Both of which require the gunners attention at all times and cannot be preformed when the gunner is on guard looking for suspects.As with all manned defences the gunner could be taken out by an infiltrators hatchet,toxin couds or eat a bullet from a sniper.
It requires it requires 6 hours to prepare. (2turns) and an aditional 2hours for each extra mode thats added seperately after construction(Thus does not require the excavator to do so)
Quick list of time to deploy the rest of defences from the ECA:
Naval AT turret: 9hours(3turns) to deploy.Requires power,
Goalkeeper turret 12hours (4turns) to deploy.Requires power
Tank Traps: 3hours to deploy a group of 4 (1turn)
Tank digouts(For them the tank cover into) 6hours (2turns) to deploy.In which they are covered by all angles other then anything that comes from directly above or flanks them from behind.(Han gunship bombs for example can)
Howitzer gun positions require 6hours to deploy(2turns) but require the postioning of the gun that requires another 3hours(1turn) unless it is filled in by a claymore.It does require power to be fully in sync and connected to the ECA's battlenetwork.If left without power it cannot lock into targets far exeeding in its range thats being lazer painted by bloodhounds or have the accuracy of firing on mobile targets.(Battlenetwork somewhat automates the angels and positioning the gun and leaves the maintenence and loading to the crew.)
Mortar pits require 6hours (2turns) to deploy.As its manned, It still shares a connection the battle network, If there is no power presented to the crew's pit then they cannot recive targeting orders from the laptop they use unless there are others nearby or its by radio command.They are vunrable to toxins clouds above and foes who can come up and personnel with a knife or gunfire,but other then that they are shelterd from most conventional weapons,enjoying the safetly of being dug in a few meters.(Accuracy and correct cordinates of bombarding varries with the human ellement)
Extra note: even if the dont have the same caliber of mortars or the same range combat pioneers can deploy on order.They are conditioned to diging the pits in which they provide fire support with under 15minutes.The pits they use do not provide the same fortified cover from each side as the mortar pit whos crew needs a ladder to climb up and see whats going on.But they can easily see whats on the horrizon or wheret the enemey is with ease.
Field command:Theese frontline facilities are where the main power is based.Housing its own ground generator along with recon helicopter drone.This facility generally has an underground mainframe where it can store tanks such as: Molemine layers,Warhounds,Mobile Sensor array, and munition tracks for frontline resupplys.They may also store one to three vtol aircraft for fast responses or recon runs.The first one requires 3 hours to prepare. (1turn cause its nothing by itself) EAch one built after it requires 9hours (3turns each)
(Little note Munition tracks may also resupply bulldogs)
Russian Federation:
Russia's policy on defences is that that Russian offense is about momentum and strength.Thus they are the living reincarnation of -Offence is the best defence-
They have NO deployable defences to the frontlines,but the constructable defences they have all require contcreate slabs,which increases the endurance of the defences placed on top.
-------Constructable defences--------
Theese defences require a BASE to be present and require powerplants to be present.
If your base is scouted via radar or some other form then the foe gets to know what buildings/defences are present.Most defences that require power do not work without it...
Constructable defences are as follows:
Cyclops turrets NotE:They require a heft amount of power
Protector missle defence system:Being underground they can fire over buildings and fire out of range if they have the targets relayed by another station.
Building turrets:Built inside generally any USA building they can rain a storm of bullets but are generally undeployed unless the other permitted is tresspassed or sentry drones detect something.Also if the base is on high alert. Inspiration: This is the link for it.
Russian RPG tower built on concreate slab
Russian Air raid tower buit on concreate slab
Russian third defence thats yet to be revealed thats built on a concreate slab (Tesla towers dont exist but this will be a replacement)
Russian Kasthan AA defence built on concreate slab
Special "Defences":
Propaganda towers: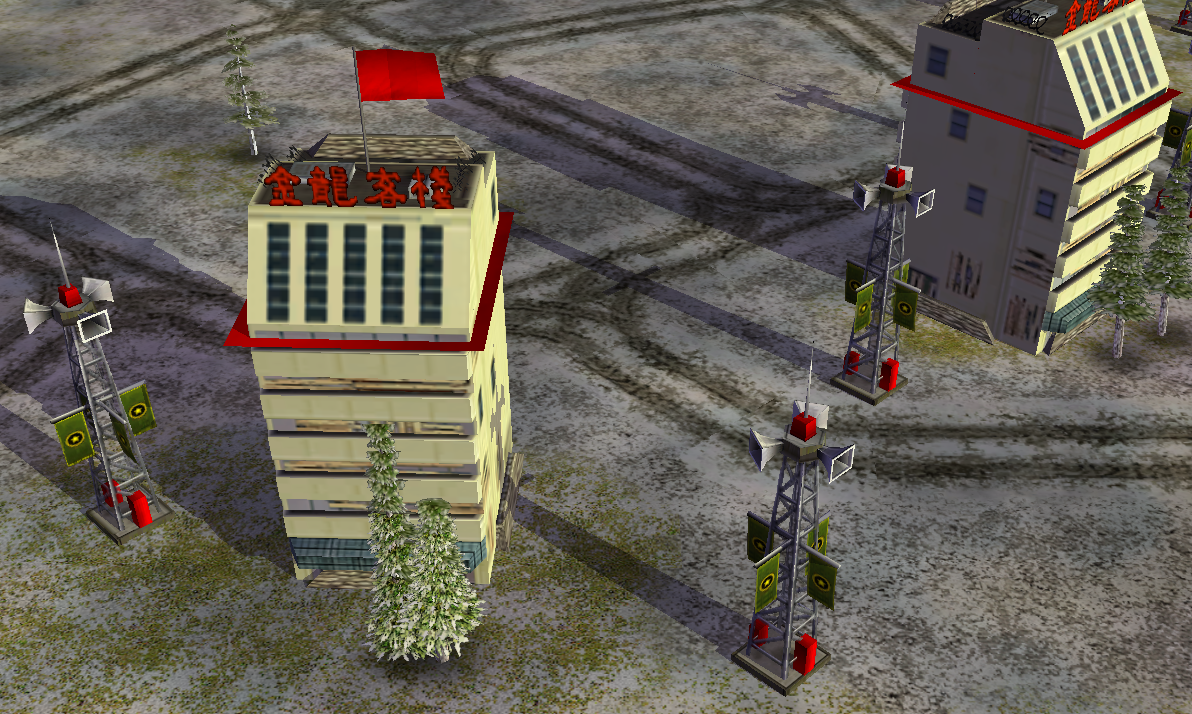 vignette3.wikia.nocookie.net/generalsrotr/images/b/b7/ChinaSpeakerTower.PNG/revision/latest?cb=20131021115314
Able to either inspire locals nearby to apply to bases to form volenteer squads.
Or have tabs on the locals with the advanced sensor array as they are connected to local propaganda centers and listend to by local police.Thus eliminating any forign intellence such ash the CIA to operate or civilian informants to feed info to the Gla.
Third option is an ecm tower that works somewhat to the banshee tanks ecm systems, disabling the communications of nearby forces via jamming and swaying away any missles directed to it.
GLA Statues:
They are the prime symbol of GLA supremecy in the region, with theese local warlords can fuel the hatred and simple minds of locals just like chineese propaganda towers but with greater numbers.The gla angrymobs can practicly appear anywhere but with theese instated they grow in larger numbers.