Post by Dmitry Molchanov on Aug 1, 2016 6:47:03 GMT
---
Introductory Words:
What you have just witnessed is an exaggerated dramatization of how the current battle system works in accordance to
Archibald Stanford
's battle system...jk, the system itself isn't even dramatized by this, but it most certainly feels like it; thank
Mendoza Chávez De La Hoya Card
for this gem in
Country Balls Warzone related, by such Orangeness
. This is a strategy-based role-play, requiring careful planning of both soldiers and logistics, counters based on the what the enemy does, and a decent understanding of how the military of your faction works. However, the current battle system is, while having been useful up to this point, bare bones. The system itself is based purely on luck of the dice roll that you don't get screwed over immensely, and possesses no bonuses for ambushes, reconnaissance, the disruption or destruction of supply lines, the weather of a region that time of year, and the addition of specialized formations to an existing one. While certain aspects of it were good, I believe the time has come to switch to a better system, as well as finally implement the naval system and aerial combat system.
---
Recruitment
While it's fairly obvious we have a good recruitment system laid out, I believe that the system needs a little more simplification to make it work. So, let's start with a tactical map.
This is a map that represents tactical recruitment zones across the globe, or a possible idea for one. Each zone shown on the map represents a basic idea of a recruitment zone for each faction. Areas that are the primary colors on the map, or primary regions, will have recruitment based around those areas; each zone, country, country, or group of countries counts as one recruitment slot for your faction's ground troops, and those bordering the ocean or any of the major seas count as one drydock, or ship construction area for your primary faction. The areas that are discolored in proportion to the main areas of each faction are regions troops can be stationed in indefinitely, but those regions are, while not dead zones for recruitment, a longer time to recruit. Instead of 1 month, it will take 2 months at the very least, and the construction of ships and aircraft will only take place in bases you have set up in the areas or in the primary lands of your faction. From a lore-based standpoint, I know it will be odd, but from a gameplay standpoint, this will ensure that no faction has all of the divisions in the world.
Now, we get into the actual recruitment. As suggested and stated before, the recruitment of formations will take one month. While I would like to say that divisions are very LARGE formations that are constructed, and really shouldn't be seen as the primary formations used (I would say brigades), I am inclined to believe otherwise; please give me input on divisions and if they are mainly a cadre-strength formation (formations used in the major strategic sense) or if they are mainly a tactical formation. However, for now, my suggestion is to bump down the construction of formations from the training of divisions to brigades and regiments, as these formations are universally used among 5/6 factions (the GLA will be the only exception, granted, but they aren't that organized, are they). For example, the Russian Federation went through a series of reforms in 2008-2011 that reformed their army structure from regiments and divisions to brigades, armies, and military districts. It was considered a simpler choice, but I digress. As stated above, you will be able to recruit one brigade (or division if this is changed) to 1 per recruitment zone, and each formation will be recruited in the time-span of 1 month, starting August 1st, 2016 to September 1st, 2016. This is a part of Retro's old recruitment system, which starts your recruitment on the first of every month and the finishing of their basic and advanced training on the 1st of the next.
Ships, however, are much more complicated. Ship construction can take years, sometimes decades depending on the size of the ship. However, given that this is a roleplay, we are not nearly as content to wait three years for the construction of a battleship. So, we've explained it off as new building technologies and innovations have drastically shortened the time for building construction and ship construction. However, that said, it will take much longer to construct ships the larger they go. Here is a basic list to show what I mean.
Minor surface combatants (Missile boats/Torpedo boats/Patrol boats/Minehunters/Minesweepers/Minelayers): 1 month
Large Patrol Vessels & Corvettes: 2 months
Frigates & Submersibles: 3 months
Destroyers: 4 months
Cruisers & Light Carriers: 6 Months
Heavy Carriers: 1 year
Mobile Offshore Bases (North American Union): 2 years
This should hopefully help explain how ships are recruited.
Then, we move to aerial recruitment, which acts mainly the same as ground recruitment: a period of 1 month recruitment times starting and ending on the first of every month.
Now that recruitment is out of the way, we can now discuss on the new combat systems themselves.


---
Ground Combat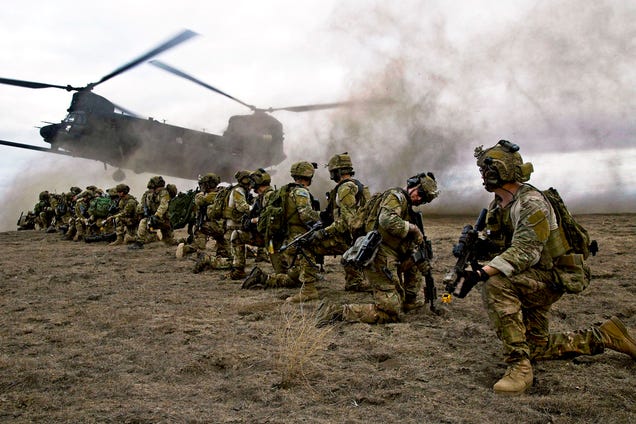 War is Hell on Earth; we all know this. From the atrocities committed by dictators outside of our borders, to terrorism, to the boots we send on the ground to fight, we all know this reality. War is Hell, and coming up with a new system that combines simplicity with attention to detail is one of, if not the most harrowing task I've had to endure here. I am currently running blanks on a fully-fledged combat system, although I do believe it will include aspects from here, here, and here. Given that I am running on blanks here, I am going to ask you: what do you want too see in the new ground combat system? What do you want to see your soldiers doing, your posts doing, and do you want to have a system that just works and is bare bones or a system that works and combines what we want? I want to hear from you on ground-based combat. Email me

Omar Al-Ghazi

@gmail.com, talk to me on Skype

Omar Al-Ghazi

, or ask me here, where I play

Dmitry Molchanov

and

Omar Al-Ghazi

.


---
Naval Combat
While boots on the ground is just fine and dandy, now we're getting into the grit of it: naval warfare. Who controls the seas, and who has what it takes to control them? The answer? Currently, none, because we have not actually designed a naval combat system. Well, that is where we now remedy this. Through months of research and help from
Archibald Stanford
, I have decided that ship-based combat should be based around individual ships in a formation, not around simply the formation itself like with ground combat. This is because ship-based combat involves a lot of hitting the right spots to either stall a ship at sea, sink it, or completely destroy it. So, I've compiled a basic list of weapons that most ships and other naval craft will have in your fight to dominate the seas. Note that I have yet to set damage outputs vs ships with these weapons, so bear in mind that I am looking for suggestions.
Torpedos: Ah, the good old torpedo tubes. Something that's been used since the late 19th century and had dominated the scenes of naval warfare in both World War I & II, this is a reliable anti-ship countermeasure that is used by both submersibles & naval vessels, and has stood the test of time for well over a century.
Naval Artillery: These weapons have been around since the dawn of naval warfare itself, starting with simple breach-loaded cannons and modernizing all the way to automated naval guns. While their use has been on the decline since the late 20th century, most, if not all ships constructed will have them as a short-range defense.
Naval Mines: One of the most dangerous weapons any submarine or unknowing naval vessel can encounter, these large explosives are usually deployed before a battle, usually to create a choke-point or to create surprising damage to the lower hulls of most ships and usually sink naive submersibles.
Anti-Aircraft Guns: These weapons, as their names suggest, are primarily used for defense against aerial threats on the sea, whether they be from an aircraft carrier not far off from a naval engagement or from land, these weapons will help in your fight against aerial targets.
Long Range Missiles: Due to the obsolescence of most fleet-to-fleet engagements, due to long-range missile systems, most ships in the modern day will either be upgraded or equipped with some form of long range cruise missile or SAM [Surface to Air Missile]. This is especially the case with most escort craft, which will have localized silos used for the purpose of long-range missile combat.
As you can see, a pretty comprehensive list. Now, as I listed in recruitment, there are several ship classes that you will be using that have their own unique hull strengths, weapons, and speeds. Smaller ships will be harder for bigger ships to hit unless they have something that can match that speed, and larger ships will be significantly harder for smaller ones to take out unless they are equipped with torpedoes The level of most naval vessels is determined by their speed, size, attacking power with their main weapons, and other such things. Each ship's hull strength is determined by the level as being +2 the level of the ship. However, this is not the case for aircraft carriers or submarines, which have double the hull strength to the level that is shown.
Level 0 - Non-Combatant Vessels (Transports/Military Cargo Ships/Minesweepers/Minelayers): These are the ships that will hopefully never see naval combat and are protected by combat fleets. These ships mainly fit their descriptions. Troop transports and military cargo ships will transport your soldiers and your vehicles to another area by sea, minesweepers will look for mines for your larger vessels on a consistent basis, and your minelayers will lay mines for your enemies, if you so desire.
Level 1 - Minor surface combatants (Missile Boats/Torpedo Boats/Patrol Boats): More or less classified as pre-battle ships or patrol ships, each of these ships are as they sound. Missile boats contain a light armament of medium-range missiles, and are typically hit-and-run ships. The same can be said for torpedo boats, which are meant to fire their torpedoes and act mainly as a distraction, rather than an actual threat. Finally, patrol boats usually patrol the waters of your homeland to make sure naval invasion isn't imminent.

Level 2 - Large Patrol/Escort Vessels & Corvettes: Larger patrol vessels and corvettes are essentially the smallest direct combat ships that will be doing battle on the high seas, but do not let their size fool you. For how speedy they are, they will usually pack a bit of a punch if you let them ambush you.
Level 3 - Frigates, Submarines, & Cruisers: Frigates are essentially your standard ships of the line that will do battle for you, along with submarines. They have decent hulls strength and a variety of weapons to use. While frigates and most submarines will be considered the main battleships of a fleet, you will also have cruisers: a ship that stands on the fine line

between capital ships and screens. Cruisers sacrifice the armor of the heavier battleships, but still pack usually the same punch. However, submarines are the ultimate in naval warfare, being able to strike from the depths and then slink back down like a shark. Some carry nuclear ordinances and some of these can be made capital ships if one so chooses.

Level 4 - Light Destroyers: The smallest capital ships in a fleet, light destroyers will typically either stay in the middle or back of a fleet to provide fire support, identically to how other capital ships are supposed to function. Usually, they will possess heavier naval artillery and pack more of a punch with their weapons in comparison to that of their screens, but sacrifice that for being slower.
Level 5 - Heavy Destroyers & Light Carriers: Considered to be the traditional capital ships of a fleet, minus that of heavy carriers & mobile offshore bases, heavy destroyers & light carriers function in the same role as light destroyers: serving as fire support and the main command of a fleet.
Level 6 - Heavy Carriers: The ultimate in naval superiority, a heavy aircraft carrier is a sight to behold on a fleet. Usually staying at the back and providing air support with large amounts of aircraft, these wonders of the seas are something to behold.
Level 7 - Mobile Offshore Bases [NAU-only]: Known as floating cities or mobile islands, these monstrous warships are something to behold on the naval battlefield. Holding a variety of weaponry for their defense and usually being the equivalent to a large base, only 7 of these beautifully destructive ships exist in the entire world, and all belong to the North American Union.
As you can see, it's quite extensive and may need a few tweaks. However, naval combat itself will be decided by a dice roll of a ship's hull strength and damage. While submarines, carriers, and MOBs may have double the hull armor, they will typically either have weaker weapons or only one or two types in the case of submarines. If aircraft carriers are fighting against each other, then not only will you have to roll for the damage to the ships, but fight in aerial combat as well.
---
Aerial Combat
asdf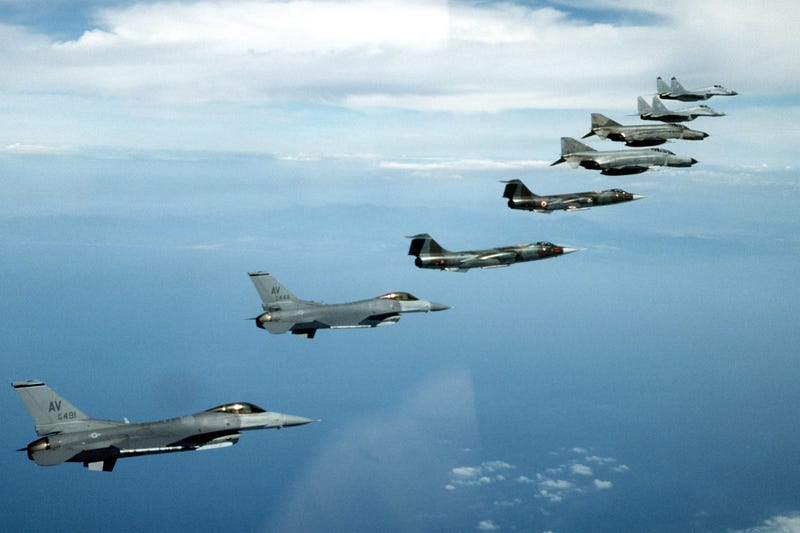 You've all seen them: airplanes, helicopters, etc. Whether at an airport, during an airshow for a parade, or elsewhere, the heavens themselves are the limits to these beautiful constructions. However, like ground-based warfare, I am still drawing blanks for aerial warfare. While there will be ground-attacking contingents that will have to conform to either a mix of ground and air combat or have a unique system for them as well is unknown. I would like suggestions, please, on how we can implement aerial combat into the roleplay.


---
Concluding Words:
What you are seeing here, right now, is merely a rough draft and needs improvement...lots of it. Things are incomplete, and without a proper system for battles of all kinds, while anticipating all possible factors, the roleplay will wither and die. However, do not be despondent. I believe that we can work together to create a set of systems that is not only simplistic, but considers every possible factor we can imagine in it. Please, tell me your suggestions, tell me your ideas, and we can all think on how to build this together.