Post by David Van Rotterdam on Jan 30, 2016 14:34:42 GMT
ENN News: Middle East, Croatia, and the Peace Palace
(OOC: this is not all happening at the same time. See the subjects as 'stand on its own', basically I am too lazy to make separate posts)
[some kind of a fancy intro]
The camera moves from some screens to the news anchor. "Good day to all. This is the News with tonight's main topics: The war in the Middle East, The incidents in Croatia and the case against most wanted terrorist leader, Omar Al Ghazi."
[some jingle and scene's after each other]
"Hello everyone. You are watching to the News. I am Otto Flick. And we will start with the war in the Middle East."
Otto Flick switches from camera angle. "Good evening viewers. The War in the Middle East once more escalated to a point of no return. The ECA was forced to take over control of the country of Oman, who had housed several rebel groups and smaller terrorist organisations. After the failed attempt to ambush David van Rotterdam, or the Orange General, in the United Arabic Emirates, the European Organisation declared war to this country. It was however not the population, but to get rid of the miss leaded politicians and the rebellion leaders"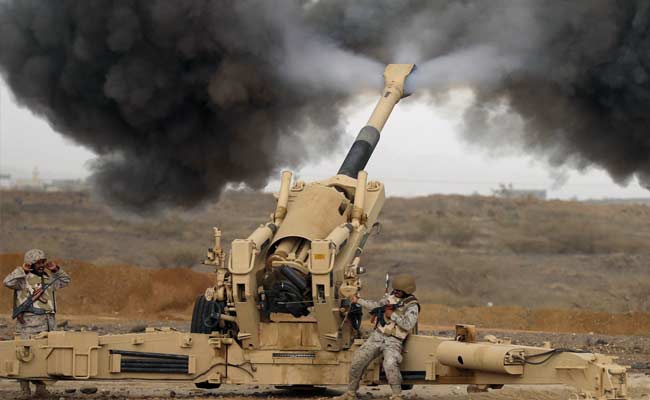 Otto Flick was shown upfront, with next to him some random images of the invasion. "it was the Orange General himself who lead this invasion. While protecting the native population but hunting down the cells, Oman is now under ECA command. They have gain semi-membership to the Alliance, and new elections are written out so the population of this country can choose its new leaders at the supervision of the ECA. As one of the spokesmen declared, and I quote: 'it's in the greater good that the ECA will monitor these elections and keep the last choice in the future of Oman and its surrounding countries, in order to maintain the peace in these regions'. The ECA have captured several cells, as weapons, and they announced that they will fully investigate this situation on how things could ended this way."
Otto Flick turned to a different camera. "And that brings us to the war in Saudi Arabia. While many rumours are going around, and this news station lacks certain important information, we cannot focus on it right now. But one thing is sure. While the ECA had the overhand in Oman, and victory was just a matter of time, the ECA also started to invade Saudi Arabia. Operation Arabian Orange, also being directed by generalobest van Rotterdam, was launched. But it seems that after nearly 1 week, this operation is halted. And that's where this news station is not sure why or what happened. We tried to contact David van Rotterdam, but his staff members told us that he is not reachable for commenting or answering our questions. And they received the orders to maintain silent about this event." Otto Flick turned over some papers. "So with the victory in Oman, and the paused invasion of Saudi Arabia, the question is what will the ECA do in the Middle East? We will keep you informed…"
Otto Flick once more is zoomed in with a smaller window next to his head popping up images of the cities of Zagreb, Budapest, Bratislava and Ljubljana. "So the countries of Slovenia, Croatia, Hungary and Slovakia joined also the side of the ECA, as the answer to certain stories from several .. former..?.. CSTO client states. With the uprising violence and civil war over the borders, these 4 neutral countries joined once more the Euro group. With the request of reinforcing their native armies to withstand possible violence from the eastern neighbours."
Otto Flick turned to his left camera, and images of cheering people were displayed in the background. "With this movement from these countries, the local population welcomed the ECA forces to help out with this threat. Together with this, several other programs are launched. While they were ready with the Warsaw Negotiations, but being overruled, several of these programs will be used to boost up local economics and education programs. Together with this, several battalions of the ECA forces are moving in, to establish several outpost for quick response possibilities to withstand the eastern neighbours."
And Otto Flick played with his eyebrow. "But is it the eastern neighbour entirely that supposed to be the bad guy in this scenario? Other stories and rumours indicates that local authorities are being overruled or pushed by some kind of organisation. There lies the true basic reasons for the entire civil war. So is it the local population who is to blame? Some say yes, but experts do say no. The problem is the faces behind the civil war. The shifting power and influence. What's ongoing over there, is still not cleared out by thus far. We keep you informed about that as well"
"And that brings us to south Croatia. While the most areas of this country favours the ECA presents, there is in the county/province of Dubrovnik voices that speak differently. There is a certain air of anti-Euro/Russo propaganda. People are disliking either faction as they are. But that is being painted as a possible local terrorist organisation. One thing is sure. We lack more info about this. But there are clear stories of heavily intensified local law force, and other agents who are checking up local population. House raids are also happening to search the terrorists. Other say they are seeking hostage situations. As do others mention about certain criminal groups."
Otto Flick stands up behind the news announcement desk and walks to the side, standing in front of several big screen monitors, displaying a peaceful image of The Netherlands, the Peace Palace and Schiphol Airport, followed soon with pictures of the heavy defences and guarding patrols. Also several escorts are being displayed.
"And that brings us up with the last and perhaps the most important news bulletin so far. The United Nations Court Session in the Peace Palace in The Hague. Standing on trial is the all known Warlord Omar Al Ghazi. Being ambushed by the United States with the UN session in New York, this terrorist leader of the feared GLA organisation was being transported to the small country of The Netherlands. Tensions are high and security is maximum as the terrorist leader was being transported from Schiphol Airport to The Hague."
"With several protocols running, to maintain the security to its maximum, the people of the Inner Zone are being monitored to make sure that nothing will happen. But things are a little more complicated. As the leaders of several countries are landing 1 by 1 on the closed airstrip at Schiphol, there was a security breach. A small amount of paratroopers were airdropped while being in the No-Fly zone."
"As the authorities, combined with the native Dutch Forces, pinned them down and arrested these men, they were being transported to a local police station. After a few hours of interrogation, the 3 suspects escaped when they were being transferred over to the military police. As the question raises where those 3 men are, the hunt on them continued once more."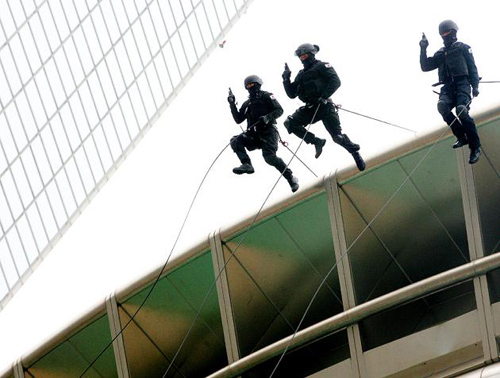 Otto Flick walks a little more to the side, while images are being shown of several military units, as also Peace Palace images. "The UN Court Session is about to start, as Omar Al Ghazi will brought to justice. But questions rise. How can a man what committed these crimes been brought to justice? What kind of penalty can do make up for so many harmed people? Entire civilizations are being hurt under the leadership of this GLA Warlord. It's not only terrorising the stereotypical 'infidels', as Europe, The USA and China mainly are referred too, but also populations of Africa itself."
"How will this man react to this circus of justice-shouting clowns? People ask. Who didn't forget the Nuclear Bombs on the 2 most holiest cities of this planet? Or the Fear Toxin Strike in the mainland of Middle Africa? Questions do rise and smaller civilian organisations hope to find answers in the UN Court."
Otto Flick were being zoomed in and he states: "The ENN News Station will be at The Hague to keep you informed about the Court session. And this was this news bulletin. I am Otto Flick, and I wish you all a good night and a healthy future." As he friendly nodded to the camera.
[The news end jingle is being played while the camera zooms out and the lights are being less bright..]