Post by Omar Al-Ghazi on Sept 9, 2015 5:14:49 GMT
News Flash: ARC News veteran anchorman, Omar Bin Ghazali, found dead at scene of GLA chemical attack in Cameroon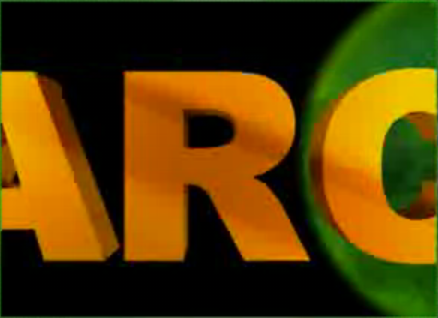 Good morning, and welcome to ARC News, with your host, Abd al Mumin.
*the camera view switches to the ARC News station, where the news anchor and co-anchor are waiting*
"Sabāḥul kẖayr, Africa. This is Abd-al-Mumin with the 6:00 news. Our top story this morning, panic and terror in north-western Cameroon and south-eastern Nigeria. Earlier yesterday evening, it was discovered that four GLA-aligned aircraft flew into Chinese airspace, and with a terrifying cargo. Four C-97 cargo planes flew in at 22:50, local time, and dropped four chemical weapons. All of which carried the deadly payload of the fear-inducing toxin created by GLA Warlord, Omar al Ghazi. However, no one knew of the danger until they awoke to find themselves in a living Hell. Whether this was during the middle of the night or the early morning was up to interpretation, but whatever the case, the people of Nigeria woke up to the same sight: an orange fog covering their homes, streets, and buildings, which then became something out of a nightmare.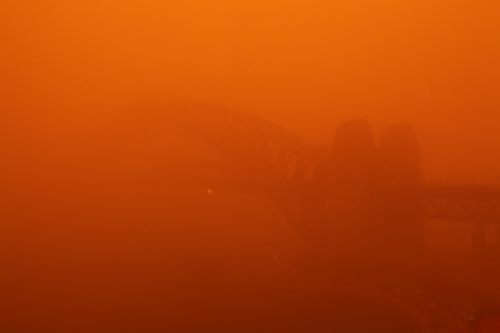 (OOC: This was the only image with indiscernible details regarding an "orange fog." You can see a bridge, but that's about it.)
The same was seen in Cameroon approximately 5-10 minutes after the detonation, where Chinese soldiers and GLA militia alike began to panic and rip each other apart." At that point, the anchor covered his mouth in an attempt not to vomit as the images came up, showing dead Chinese soldiers, ones curled up in fetal positions, and GLA militia and Chinese soldiers alike dragging out bodies to be burned.
"Unfortunately, our veteran member of ARC News, Omar bin Ghazali, was on site to report on the situation in Cameroon...however, before his coverage, he died due to severe heart failure. May he rest in peace, and may his spirit find paradise in heaven..." Images were then put up of Omar Bin Ghazalli throughout his career in ARC. From the troubling times of the Global War on Terror to more recent events, such as the nuclear bombings of Mecca and the Vatican. At the end, was an image of a smiling Omar, with the date of 1989-2045 below.
"As a result of this heinous action, the leader of Nigeria, Buhari Muhammadu, has ordered an immediate evacuation of Nigeria's metropolitan areas into quarantine zones in north-eastern Nigeria to await Chinese transportation across GLA lands into the territory of the Greater Asian People's Alliance."
"These are troubling times that we live in today. Although I was not present at the attacks, I had heard word and immediately flew as close as I could to the exclusion zone being set up by our Chinese allies. Omar al Ghazi's mental stability must be called into question on this one, as he has killed or permanently damaged over 65 million people in the Nigerian metropolitan area, as well as the north-east of Cameroon. If the "esteemed" warlord is watching or listening, you proclaimed that you represented the African population. However, what I see is the machinations of a cruel and sadistic madman, who must be put to death at once. Even his own allies are questioning his decisions, and as a result of his attempt to drive our Asian allies out, he has killed 65 million and displaced millions more from their homes. I will not stand and watch as this madman tears apart our great nations, and if the Nigerian military must get involved and assist our Asian allies, then so be it." The camera then switched back to the news station as Abd al Mumin cleared his throat after drinking a cup of coffee.
"As you can see, even Nigeria is calling out the GLA warlords on their heinous acts of terrorism and hate, not long after the events of Mecca and the Vatican. Even GLA activist groups are beginning to question this rash and devastating decision that could turn the war in Africa to the favor of the Global Liberation Army."
"In other news, pro-GLA governments in North Africa are proclaiming their allegiance to the Global Liberation Army by forming their own alliance, known as the Saharan Liberation Front.
The organization, led by newly-appointed pro-GLA governments in North Africa, has begun assisting the Global Liberation Army in any way they possibly can. This ranges from conscripting citizens as militia soldiers for the GLA, setting up their own military forces along their borders, and supplying the Global Liberation Army with resources and materials for war."
"Now, onto a lighter note, with what you can do to encourage recycling in your community, as this young boy has shown..."
(OOC: This has to be the longest news report I've done. And this is not the only post that I have to catch up on. I'll be catching up as the month passes along, but don't expect a post a day. This took over two hours to do. If anyone wishes to correct me on anything regarding the situation, please let me know and I will edit things in or out of the report.)