Post by Dmitry Molchanov on Dec 5, 2016 7:26:28 GMT
Good evening, and welcome to FFN, the Russian Federation's foremost front for international news. Our top story today came in the form of a shocking turn of events from the Anglo-European Defense Pact, who stated in a closed United Nations summit between the major nations operating in the Zone, that any attempt to fight against the GLA while they still operated in Terra Nullius would be an act of war against Europe. Not so surprisingly, upon President Molchanov's return to Moscow, the Russian population is furious, and anti-European sentiment, especially across the Concrete Wall of Europe and among Russia's allies, now grows at a rate twice as high as before.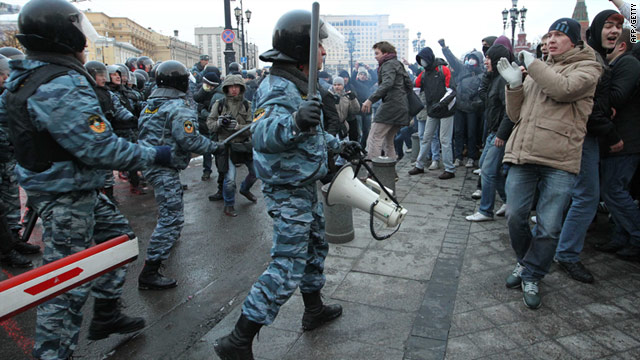 Riot police and even the FSB were deployed to various cities across Russia and its clients, with Moscow forces being deployed to protect the Kremlin in fear of the President's safety, and for good reason. With riots brewing and international tensions at an all-time high, sentiments across Russia's political parties, with the most vocal being the Communist and United Russia, on Europe's threats were not so friendly towards Molchanov either, with even the Novorossiya Party calling for the President to take action against European aggression. Only recently has the President come out to state his position on the AEDP and what he plans to do regarding its actions. However, he cryptically stated, and I quote, "The Anglo-European Defense Pact expects Russia to remain silent while they try to act as the 'morality police,' when it is clear that their leader is a thug with too lose of a leash? I do not believe so." The Kremlin has yet to deliver on the promises, however, to deal with European aggression in the months that followed the previous United Nations incident, and people have already begun questioning whether or not the Russian government or military will commit to pushing Europe back. Despite accusations against the Kremlin doing nothing to protect its people, however, President Molchanov has already begun to make good on his word through starting military exercises along the Polish-Russian border. At the same time, students of Russia who are studying abroad, especially in Western European regions, are returning to continue their studies in Russia. The majority of these students possess at least one government worker in their family, leading many to believe that these actions may be the start of a possible war.
In other news, recent environmental protection efforts, in large part due to cooperation from South America, have reduced rampant wildfires in and around Russia, leading to a multitude of theories. One of the most popular thus far is a conspiracy theory of South America manipulating Russia's weather. Whether or not this is true has yet to be disclosed, but it is clear that the majority of fires across Siberia are being halted and brought down to just a smolder at this point, and whether or not this has the potential to remain in permanence is yet to be discussed.
Coming up: more coverage on the situation in Africa, and more on what Russian officials are planning to do about it.